Apple Announces New MacBook Air, Mac mini, and iPad Pro in Brooklyn Event.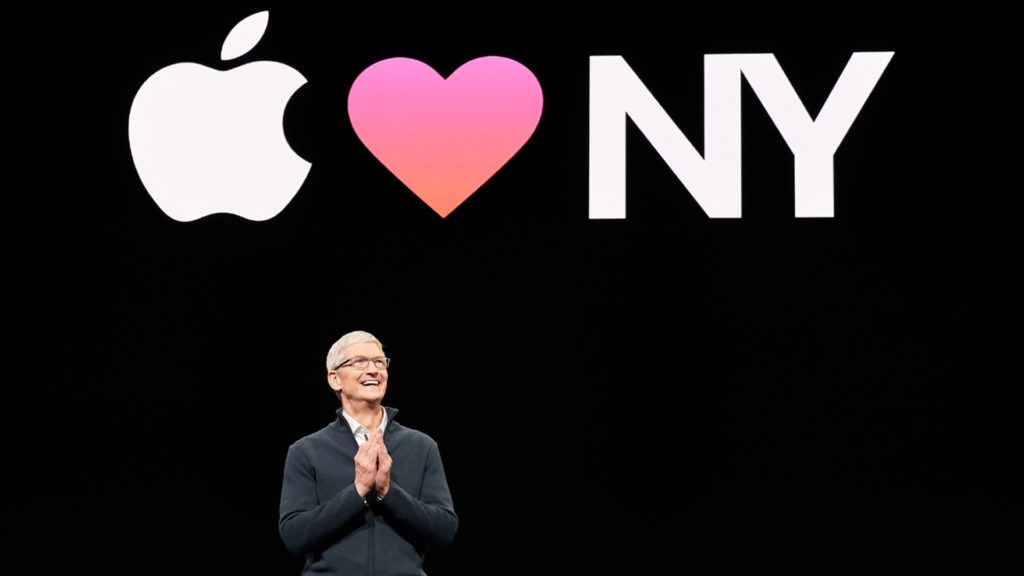 Apple released a trio of new hardware products at the Brooklyn academy of music. The long awaited updates to the MacBook Air and Mac mini were announced while the iPad Pro got a a reimagining in the style of the iPhone X. Overall this was a very good fall event that setup iOS for a very bright future.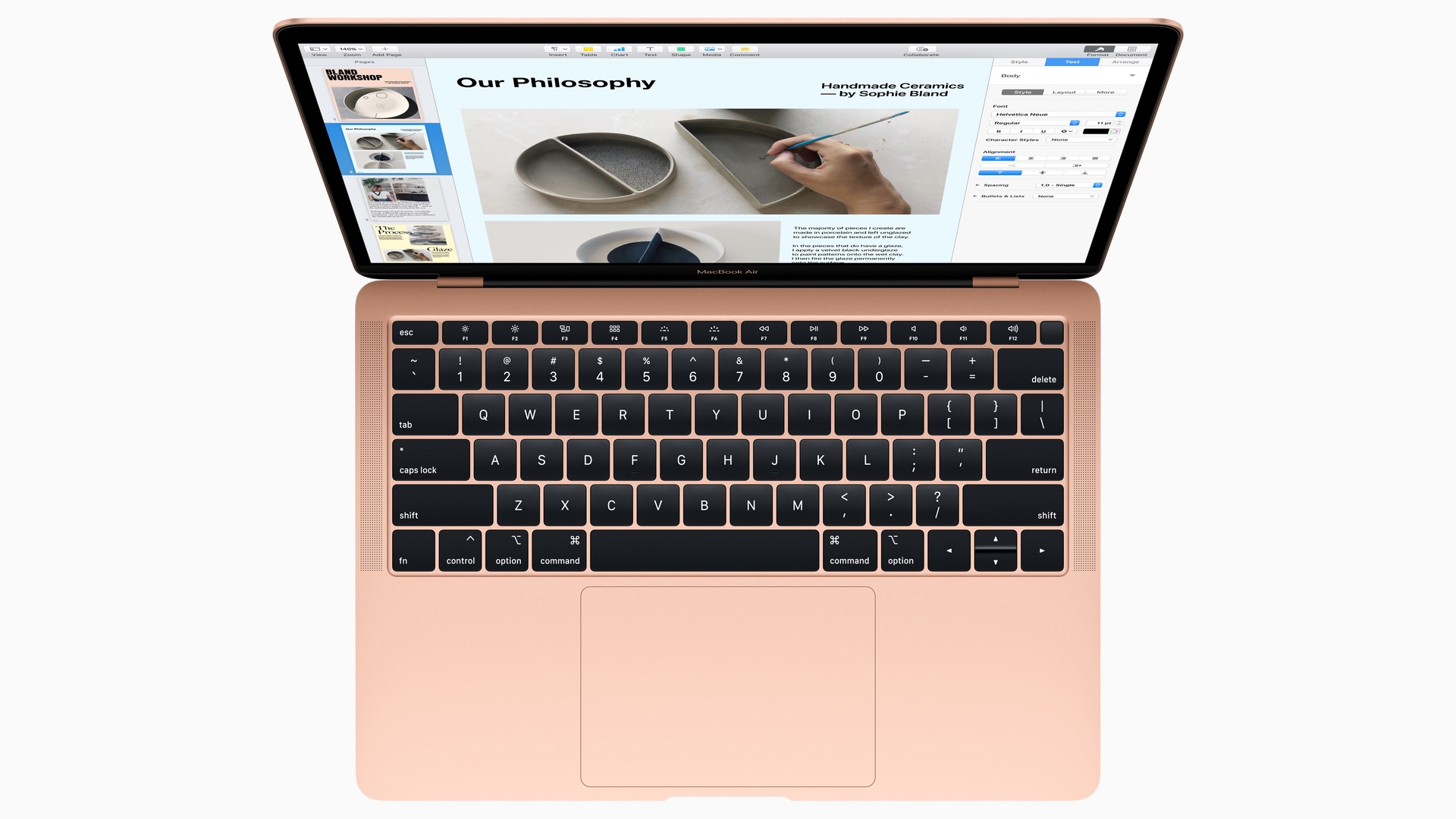 MacBook Air
The 13" MacBook Air has received some motherboard and CPU upgrades over the years, but has had the same screen and form factor have been essentially the same since 2010. In fact many had considered as a machine and nameplate destined for the scrap heap. Then something unexpected happened, despite two generations of retina MacBook Pros and the 12" MacBook replacing the 11" model, the MacBook Air kept selling. So much so that a Retina MacBook Air had to happen and it indeed did.
Like its predecessors, this MacBook Air is based around a 13.3" display, but the trusty old 1440 x 900 TN panel that adorned its golden age has been replaced by a 2560 x 1600 IPS display that will be lightyears beyond the current display. In fact, it can do a scaled resolution up to 1680 x 1050, so it can us the flexibility of Apple's retina implantation to get quite a bit more information in the same space.
The MacBook Air is still based around that polished aluminum look that has become Apple's signature, but there's a couple differences. First, joining the silver are space gray and gold. Second, the new MacBook Air is made from a new aluminum alloy that uses recycled aluminum shaving. Not only could this make these casings potentially cheaper, this could be something that Apple could actually license out to other companies and industries. It also uses less aluminum since its is smaller and lighter than the machine it replaces while not having any appreciable difference in battery life.
I/O has been updated to the top of the line. While some where expecting plain USB-C, the new MacBook Air has a pair of Thunderbolt 3 ports. In essence it replaces the non-touchbar MacBook Pro as well. In a first for any non-touchbar Macs, the Air has TouchID for Biometric security. This is backed up by the T2 chip which offers other things, like Hey Siri support, real time encryption, and hardware acceleration of video and photo formats. Both memory and storage are soldered on and non-user replaceable, but the Air can carry to 16GB of RAM and 1.5TB of SSD storage. All of this is powered by 8th generation Core-series dual core CPUs.
The wait will not be long for these new MacBooks. They ship staring November 7th for a starting pricing of $1199. The previous generation is also still available as a beginner model at $999.
Apple also announced that Radeon Pro Vega graphics will be coming to the 15″ MacBook Pro in November
##Mac Mini
The Mac Mini was last updated in 2014 and that was actually a bit of a downgrade from the 2012 model. For 2018, technology has finally caught up with its small and flexible form factor. The dual core days are gone, as is the silver finish.
The 2018 Mini sports a Space gray finish and your choice of quad and hexa-core CPUs. The new Mini can sport up to 64GB of memory on a pair of SO-DIMM slots. What's not clear is whether those are user upgradable like the 27" iMac or if an Apple authorized provider must do that. What is clear is that while the new Mini can sport up to 2 TB SSDs, but that is most definitely soldered to the board. The aforementioned T2 chip is also onboard.
I/O is updated for 2018 in a bit way and it makes this by far the most useful Mini ever produced. There are a pair of USB 3.0 Type-A ports for legacy devices and your choice of gigabit or 10-Gig ethernet, but that isn't this Mini's bread and butter. There's also 4 Thunderbolt 3 ports. With EGPUs and ultra fast Thunderbolt 3 storage devices devices, the Mini can hang with a full fledged desktop while being far more portable.
Like the MacBook Air, the Mac mini will come out on November 7th for $799.
iPad Pro
While the Macs were first class appetizers, the iPad Pro was the main course. It showed the future of not only the iOS devices, but Apple itself. In fact this could be the future of the computer.
As expected the new iPad Pro has the a new bezel free design that ditches Touch ID for multi-multi-orientation Face ID. The cornerstone of that design are new Liquid Retina Displays with technology co- developed with the iPhone Xr. It comes in two sizes. Replacing the 10.5" model is the 11" model. The new iPad retains the relative size of the 10.5 model while giving you more screen in the same size. The 12.9" model goes the other direction and gives an iPad that is far smaller while having he same screen. Both Pros are 5.9mm in thickness.
While skipping the A11 generation, the X SoC returns in a huge way for the A12X Bionic. This monster features 8 CPU cores, 7 GPU cores, and the neural engine from A11/12. Apple says this new iPad Pro Lineup is faster than 92% of all laptops and based on what we have seen from the A11 and A12, there's a pretty decent chance this is far from hyperbole. Joining that monster SoC is up to 1TB of onboard storage.
I/O may be the real star her. Yes, the smart connector is still here, but its completely outshined by USB-C. This allows the iPad Pro to be connected to all sorts of USB-C devices all the way up to 5K external displays. It can even charge an iPhone. I would to be surprised if the 2019 models of iPhone and regular iPad were USB-C equipped as well. Also making its debut is a new Apple Pencil. The Apple Pencil 2 features click support and a new casing that features both magnetic latching and magnetic charging.
The 11" Model starts at $799 and the 12.9 model begins at $999. There is also a legacy 10.5 base model coming in at $649.