Tech Hangout 2.0 #5: Its All about Verizon… and Absolutely Nothing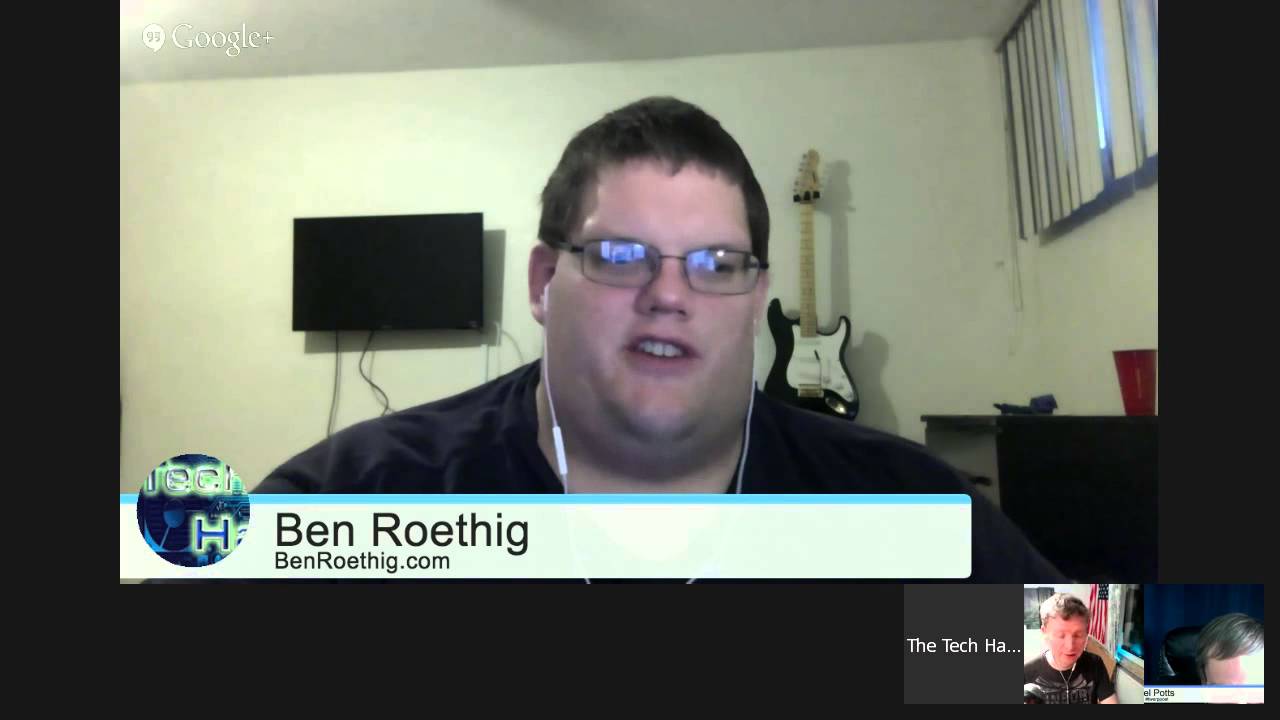 Hosts
Ben Roethig
@Ben Roethig
www.Benroethig.com
Patrice Brend'amour
@casual_Kitchen
http://brendamour.net
Mikel Potts
Big News
Most important news stories of the week
Verizon Communications buying AOL for $4.4 billion
Deal is all cash for $50 per share
Main target is AOL's ON Networks video and advertising arm
AOL sees it as a $600 billion growth industry
also receives AOL's editorial arm in Huffington Post, Engadget, Techcrunch, Autoblog, and more
Could create conflicts of interest with Editorial independence
Engadget says they're keeping control
Parent company CBS forbade CNET from giving the DISH Hopper a Best of CES 2013 award when it conflicted with corporate interests
Under a settlement with FCC, Verizon and Sprint will pay heavy fines
Related to an unauthorized third party texting charge practice called cramming
Carriers would receive 30-35% of fraudulent charges
Verizon will pay $90 million while Sprint will fork over $68 million
$120 million of the $158 million will go to victims of cramming
AT&T and T-Mobile already settled for $105 million and $90 million respectively in 2014
Carriers must now get clear consent from customers for third party charges
Apple
News about iOS, Macs, Apple TV, Apple watch, etc
Apple watch proven to be more waterproof than Apple stated
Certified to IPX7 for water resistance for splashes
Far exceeded those limited in tests by Triathlete Ray Maker
withstood a 1200m (close to 4000ft) swim, and 32ft platform dives, and simulated submergence up to 40m (~130ft)
watch doesn't have swim tracking capabilities and wrist detection does not work underwater
Water ratings are typically conservative for liability reasons
Google
News About Google and Android
Additional Coverage
* Google's Fit software has been updated to version 1.51
* Now calculates distance and calories burned in app
* Uses just gender, height and weight
* activities now can be grouped by days, weeks, or months on timeline
* update also introduces Google Fit widget and Android Wear watch face
* Update also fixes an incompatibility with the Samsung GS6 and Note 4's sensors and Android wear
Google Map Maker has been made temporarily unavailable
Due to users misusing the service
Most well known misuse was a picture of the Android logo urinating on an Apple placed on a map in Pakistan
Team originally discontinued automatic approval of map edits in favor of manual review, but that became unmanageable
Google hasn't said when it plans to reopen submissions.
Windows Corner
News Microsoft Products
Microsoft developer evangelist Jerry Nixon has stated that Windows 10 will be "last version of windows"
Does not mean windows is going away
company will update Windows 10 via regular updates instead of major point releases from now on
Microsoft has released information about the editions Windows 10 will come in
the standard edition will be Windows 10 home for consumer desktops and tablets
Windows 10 Mobile will be on phones and tablets between 3 and 7.99 inches in size
Windows 10 Pro will be for power users and includes some business feature control
Microsoft will offer enterprise versions of Windows 10 and Windows 10 Mobile. Will give IT the ability to stagger releases. Will not have free upgrade, but will be part of existing licensing programs
There will also be a Windows 10 edition aimed at the education market.
Still no date of release
Linux and Open Source
News about Linux, Unix, BSD, and open source software
Ultra affordable micro computer called CHIP
offered for as little as $9 on Kickstarter
Similar to $25 Raspberry Pi
1ghz ARM cpu, 512mb of memory, 4gb of onboard storage
802.11n Wi-Fi and BT 4.0
composite video auto
runs Linux
add on options includes batteries, VGA and HDMI outputs, and pocket CHIP enclosure
Designed for open source maker projects
$1.2 million in funding out of $50,000 goal. Almost 24k backers
still 3 weeks to go
TV, Web, and Comics
If something happened in hollywood or print, talk about it here.
Legends of Tomorrow will launch in 2016 on the CW
Third show set in the Arrow/ Flash universe
will be set around a team of time traveling heroes and villains who battle a new and great threat
Will include Arrow/Flash characters including Brandon Routh as Ray Palmer/ ATOM, Victor Garber as Martin Stein/ Firestorm, Wentsworth Miller as Captain Cold, Dominic Purcell as Heatwave, and Caty Lotz as the resurrected Sara Lance/ White Canary
New characters include Doctor Who alum Arthur Darvill as time traveler and team leader Rip Hunter, Ciara Renée as Kendra Saunders/ Hawkgirl, and Franz Drameh as Jay Jackson
Oliver Queen and Barry Allen will play a part in at least the pilot
Premieres on CBS in November
also from Berlanti Productions who handles the Arrow-verse
Follows Glee alum Melissa Benoist as 24-year old Kara Zor-El/ Supergirl, the cousin of the more famous superman
Origin story will Kara becoming Supergirl
working as a Personal Assistant and trying to live a normal live
a plane disaster that would have killed her adoptive sister Alex Danvers causes Kara is out her powers and find herself as a hero
shows a more down to earth, vulnerable hero
also stars Chyler Leigh as Alex Danvers, Mehcad Brooks as veteran photographer and Superman ally James Olsen, Calista Flockhart as media mogul Cat Grant, and David Harewood as government operative Hank Henshaw.
Picks
Each brings an item, app, device, show, etc they want to talk about
Mikel
Ben
USB-C Hub+ for MacBook launches on Kickstarter
Patrice