Tech Hangout 2.0 #2: Never Give Up, Never Surrender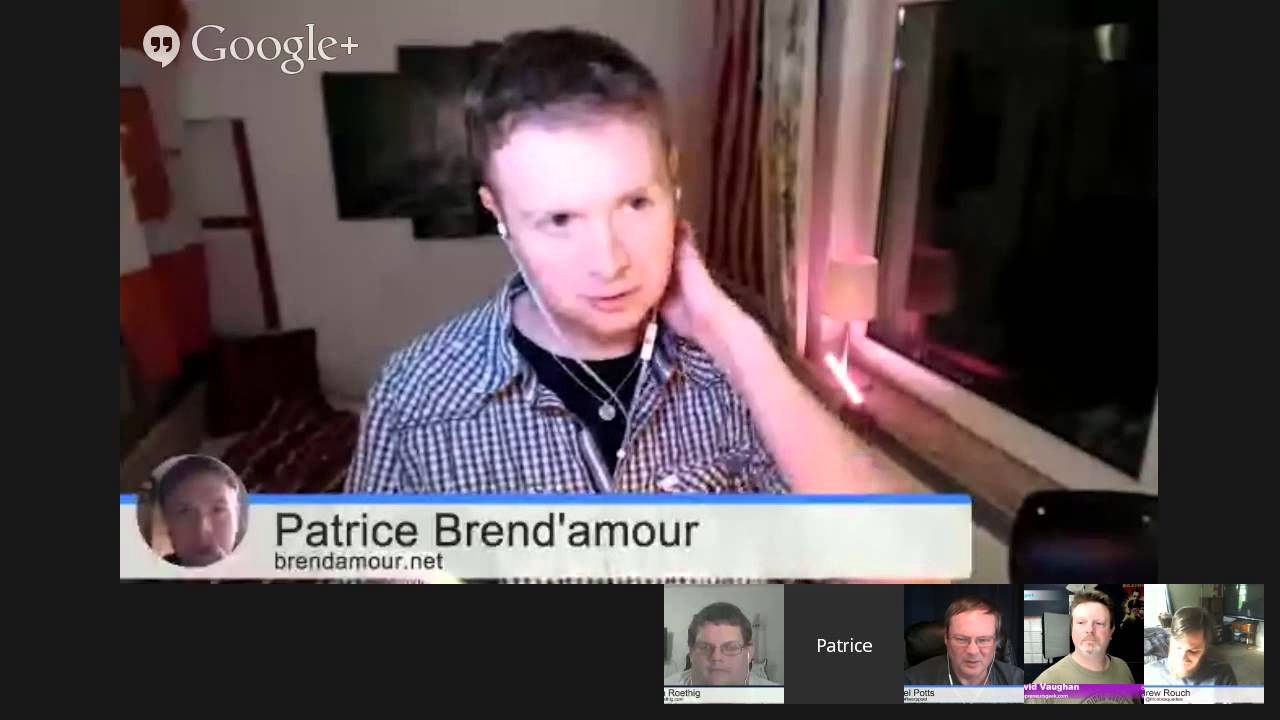 Hosts
Ben @benroethig, benroethig.com
Patrice @casual_kitchen brendamour.net
Andrew @Montisaquadeis
Mikel
David @IamDavidVaughan/@vaughan_geek
Discussion
Primary host directs co-hosts to speak
Big News
Most important news stories of the week
Comcast and Time Warner Cable launched a $45 billion merger over a year ago
#1 and #2 Cable operators in the U.S. would have had 33 of the 50 million cable subscriptions in the U.S.
Comcast also own content provider NBC Universal
FCC and Justice Department reportedly are leaning to oppose merger with FCC reportedly recommending it for public hearing
Comcast has also had several missteps in customer service since the merger
Verizon is launching custom a la carte bundles for its FiOS TV service
new service includes broadband internet, 36 basic channels, and two of their interest based packs
$65 bundle $10 for additional packs
similar in a way to programming offered by Sling TV
some networks disagree
Disney has said that moving its ESPN sports networks to a pack is unauthorized and breaks the carriage agreement
Verizon disagrees that it needs permission
Fox Sports and NBC Universal also voiced objections
Apple
News about iOS, Macs, Apple TV, Apple watch, etc
Developers given option to get Apple watch early
Silver sport with blue watch band
would ship April 28th
chosen by random selection
developers will be notified today.
Apple Watch App store has launched
over 3,000 apps available
first apple watches delivered tomorrow
many iPhone apps have been updated the last couple of weeks to work with their Apple watch counterparts
Google
News About Google and Android
Google has launched its own MVNO called Project FI
initially only for Nexus 6 owners
works on a combination of Sprint and T-Mobile networks
automatically connects to the fastest network be it Wi-Fi or LTE cellular
$20 connection charge, $10 per gigabyte used.
Google pays you back if you don't use all your data
user's can sign up for access at Google's website
Major update for Android Wear smartwatch platform
introduces some always on apps such as Google maps with black and white mode
can work semi-independently with new Wi-Fi mode
flick wrist to scroll through messages
updated emoji library
Google has updated YouTube API
means loss of support for older devices released prior to 2012
includes iOS 6 and older, Apple TV 2, Google TV 2 and older, and some smart TVs and BluRay players
Windows Corner
News Microsoft Products
Solitaire has returned in Windows 10
important and well used productivity app
TV, Web, and Comics
If something happened in hollywood or print, talk about it here.
Cult Sci-Fi comedy Galaxy Quest might be returning
1995 film starred Tim Allen, Sigourney Weaver, and Alan Rickman.
parodied actors in a Star Trek-like program that were placed in real space aboard a replica of the ship.
would return as a tv show based on the movie
Netflix series for Marvel
well received and very popular
Has been renewed for season
will come out in 2016 before Iron first and the Defenders in 2017
Transportation Tech
Cars, Planes, Ships, Rockets, ETC
Maglev Train (magnetic levitation)
from Japanese central railroad
new speed record of 366 mph
old record of 361 set 12 years ago
hopes for 372mph service by 2027
twice as fast as bullet trains
Picks
Each brings an item, app, device, show, etc they want to talk about

Ben
David
Patrice
Mikel
Andrew
That's it for this Week's Tech Hangout. See You all next Week!